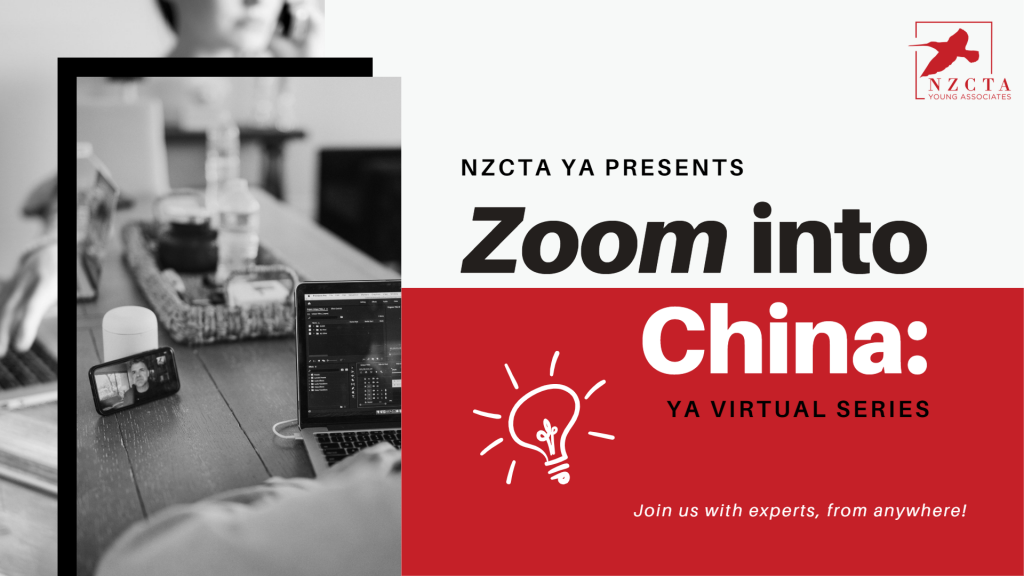 Zoom into China: YA Virtual Series
Borders are closed, but that doesn't mean your fam at the YA are! 
NZCTA YA warmly welcome you to come join us online through Zoom into China: YA Virtual Series. The team at YA have been working hard over the past weeks to be creative and innovative during strange times: exploring ways to deliver our events in a way that transcends physical boundaries and offers unique opportunities for insight and perspective for all participants.. 
Notably, while our events in the past have regularly been based in Auckland, our Virtual Series will now bring you speakers from wherever they are in the world to wherever you are, right in the comfort of your own home! What a better time to zoom into China than right now? 
We have curated a whole series of online events and workshops to help keep you informed, engaged and growing with the NZ-China relationship. Within the YA, our team will be continuously sourcing new speakers, taking your feedback and working hard to ultimately offer a range of topics and sessions unlike anything we've had before! Will you be zooming along with us? Come and join our YA zoom-olution! 
Simply sign up, save the date, log in to Zoom and we'll see you all there!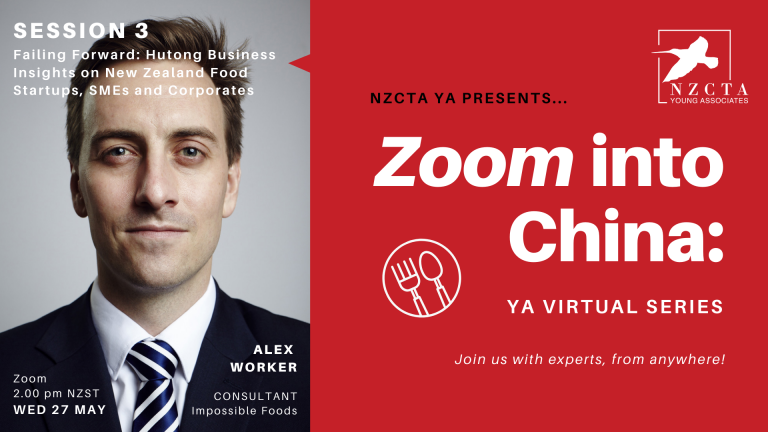 YA VIRTUAL SESSION 3 - Failing Forward: Hutong Business Insights on New Zealand Food Startups, SMEs and Corporates
As we proceed into the future, the ability for us to provide sustainable fast moving consumer goods to an ever-growing population is of concern. The ability to market and provide environmentally conscious foods to customers is directly related to the preservation of our planet. Thankfully, we're bringing you a session where you can catch a glimpse into the important development of this industry.
We are pleased to have Alex Worker join us in our third instalment of our digital series. With over ten years working with Fonterra, he has built upon his experience to help cultivate the connection between sustainable agriculture and urban living. Alex Worker's experience in the sustainable food industry is both extensive and impressive. Having started a collection of companies that help facilitate both the creation and the marketing of environmentally conscious foods, it is clear that this is his passion. Be it with Hatchery or Highground, companies that help market products from overseas into the Chinese and greater APAC markets, or with Impossible Foods, a company that uses plant-based ingredients to provide a sustainable substitute for meat, Alex's work is of global importance.
Make sure you register, so you don't miss what will surely be a great instalment in our Zoom into China: YA Virtual Series.
Date:
Wednesday 27th May 2020
Time:
2:00pm - 3.00pm NZST
Location:
Keep an eye out for the Zoom link provided in the confirmation email!
Pricing:
Free for Members
Free for GCC Members
$3 for Non-Members
Alex Worker is a New Zealander with an international background in food, startups and agriculture. He is a consultant with Impossible Foods focused on APAC business development, and Managing Director of Highround Brands, a strategic food and beverage agency. Alex has lived in Greater China for over fifteen years, completed an MBA at Tsinghua University and MIT, and has ten years corporate experience working with Fonterra in New Zealand, China and across APAC. He holds founding board roles with the New Zealand Business Roundtable in China and is a member of the Asia NZ Leadership Network.
Registration for Session 3
YA VIRTUAL SESSION 4 - Kiwi Expat Stories: Life on the Ground with ZURU in China
Ever wondered about the nitty gritty details of moving to China and what an expat's life there is like? Thinking of making the move yourself (post COVID-19 of course)? Are you keen to know what it's like working for a Kiwi company in China? Well look no further than YA's Virtual Session 4 featuring two Kiwi expats working for ZURU in China to feed your curiosity! 
ZURU is a disruptive and award-winning company that designs, manufactures and markets innovative toys and consumer products. It is the fastest growing toy company in the world right now! The company started in New Zealand and now has a significant global presence, with operations in 10 countries and distributions to major retailers in over 120 countries. With offices in the Guangdong Province of Southern China, as well as a sales and marketing, head quarters in Hong Kong, Zuru is now a leading New Zealand-owned business based in China. 
Come join us in our story-time style Virtual Session 4 with BRITTANY OLIVER and STEPHEN DRYSDALE, two of ZURU's China-based Kiwi employees, who will share how they transitioned from university life in New Zealand to hitting the ground running in Shenzhen, China. Brittany and Stephen are graduates who have foregone their traditional career paths, pursuing roles at ZURU and taking the opportunity to live and work in China. They will be sharing their experiences working in the fast paced Chinese market with limited Chinese knowledge. How have they handled the differences in culture as well as working with Chinese domestic suppliers? Would they recommend living and working in China? Want to find out how COVID-19 has affected ZURU and how they are playing their part during this pandemic? Don't miss your chance to get answers to all these questions and to gain insight into ZURU's experiences doing business in China through Olivia and Stephen's stories! Register for Session 4 now to secure your spot! 
Date:
Tuesday 2nd June 2020
Time:
1:00pm - 2.00pm NZST
Location:
Keep an eye out for the Zoom link provided in the confirmation email!
Pricing:
Free for Members
Free for GCC Members
$3 for Non-Members
Stephen is the In-House Counsel for the ZURU Group. He oversees Zuru's global intellectual property, commercial, and regulatory compliance portfolio, including anti-counterfeiting efforts within Mainland China. Stephen grew up in the small town of Matamata, and moved to Hamilton to pursue his Bachelor of Law (LLB). While at University, Stephen was President of the Waikato University Law Students' Association, as well as a Board Member and Volunteer at the local Citizens' Advice Bureau. Before joining ZURU, Stephen interned at one of New Zealand's largest law firms.
Brittany is Zuru's Business Unit Manager for the 'Sparkle Girlz' line of dolls. She has extensive experience working with China-based manufacturers, optimising back-end production and driving brand growth in collaboration with ZURU's China operations teams. After completing her Bachelor of Management Studies at the University of Waikato, Brittany quickly moved to China to head up ZURU's first brand acquisition within the toy industry. A challenging venture across cultures with a deep array of new learnings on what it means to work in China.
Registration for Session 4
YA VIRTUAL SESSION 2 - Eastern China: Where NZ Businesses are Winning, and Where They're Not
Ever since the signing of the New Zealand-China Free Trade Agreement in 2008, Kiwi businesses have rapidly expanded their cross-border reach into the cities of Eastern China (华东). Shanghai (上海), Nanjing(南京), Hangzhou(杭州), Jinan(济南), Fuzhou (福州), Nanchang (南昌), and Xiamen(厦门) are among the most well-known internationally, and are just a few alongside the 33 cities in East China with a population of over 1 million! The upsurge of these iconic and bustling cities has been a huge contributor to China's economic success, and a new market opportunity for New Zealand businesses.
Be it tourism, agriculture, manufacturing, education, food & beverage and beyond, the Kiwis leading the charge into China's marketplace will no doubt have come across a plethora of challenges. So, where are NZ businesses falling short, and where are they winning? 
We are excited to welcome Richard Dunsheath, NZTE's Shanghai Trade Commissioner and previous Guangzhou Trade Commissioner, as our second session's esteemed guest speaker. We look forward to hearing Richard's insight from working on the ground with NZ businesses establishing themselves in East China; highlighting their wins and learning from their losses. He will also touch base on what our post-Covid19 relationship with China may look like, alongside answering any questions you may have!
This will be a session not to miss! Register now to book your spot! 
Date:
Wednesday 13th May 2020
Time:
11.30am - 12.10pm NZST
Location:
Keep an eye out for the Zoom link provided in the confirmation email!
Pricing:
Free for Members
Free for GCC Members
$3 for Non-Members
Richard is NZTE's Trade Commissioner in Shanghai, where he is responsible for delivering value to New Zealand companies in Eastern China. Richard has spent over 10 years working for public and private organisations in China, Australia and New Zealand. He has had an extensive career at NZTE, including roles as the previous Trade Commissioner of Guangzhou, Director Sales and Digital Services, Director Global Market Research, and as a Customer Manager helping a portfolio of New Zealand technology companies expand internationally. Before NZTE, Richard worked in the waste management and franchising industries. 
YA VIRTUAL SESSION 1 - Breaking New Zealand into West China
Chengdu (成都, 四川省) has cute pandas, spicy noodles, rap music and a growing NZ presence in both public and private sectors, across a range of industries. Since John Key opened the NZ Consulate-General in 2014, there has been an explosion of NZ Inc onto the Sichuan canvas, and a flow of NZ businesses penetrating the region. So how, why and who?
Come along to hear the strategies of how two pioneering New Zealanders broke into Western China through government and private business!
This Zoom-inar will be one not to miss; register now and see you soon! 
Date:
Wednesday 29th April 2020
Time:
1pm - 1.40pm NZST
Location:
Keep an eye out for the Zoom link provided in the confirmation email!
Pricing:
Free for Members
Free for GCC Members
$3 for Non-Members
Alistair worked for the Ministry of Foreign Affairs and Trade from 1995 to 2019.  He established and led New Zealand's new Consulate-General in Chengdu, Southwest China (2014-18), and served as New Zealand Deputy Ambassador to Viet Nam and Deputy High Commissioner to Papua New Guinea. He was also New Zealand's first education counsellor to China, and has lived in Japan, Taiwan and Australia. After returning to his hometown Christchurch, Alistair worked as chief of staff to the Christchurch Mayor in 2019. He is now assisting the Asia New Zealand Foundation to establish a permanent presence in the South Island.
Dr Parley Reynolds is a Senior Lecturer in Business Management at Chengdu University of Technology. Parley has 10 years living and working experience in China including his most recent job as the Asian Market Manager for Moa Brewing Company and 3 years working for NZTE in Beijing and Chengdu.
Missed out on the live event? Purchase our membership to view recorded sessions on demand! Keep your eye out in June for more info about our membership re-vamp launch!