YA VIRTUAL SESSION 6 - Standing Between the Giants with David Mahon
It's halfway through 2020 and we've reached the 6th instalment of our Zoom into China: YA Virtual Series. In this session, we were honoured to welcome the esteemed David Mahon to speak with us about China, the US, New Zealand and everything in between. 
David has been a resident in China since 1984, where his current lockdown spent in Auckland has been his longest period away from the country in fifteen years. Over the past three decades, David has successfully established and grown Mahon China, an investment management and advisory firm which has assisted a plethora of multinationals and SMEs develop their China strategies. It's safe to say that David is full of knowledge and wisdom on China, and there was much excitement among the YA Committee leading up to the session. 
Our Zoom call launched straight into things: David discussing the US-China tension and New Zealand's role in navigating between these two powers. David spotlighted that there is a lot of pressure placed on New Zealand to join the US-led global coalition 'against' China. He also noted that some critics feel we are 'inappropriately dependent' on China for our trade. In view of such sentiments, David shared his own perspectives that, in fact, we are not so dependent on China and that we can have power in acting independently. 
When it comes to New Zealanders' views toward the US-China tension, David noted that this is largely a cultural issue. As a South Pacific nation in an Asian economy, with a colonial history and diverse communities, how is and will our population perceive our global relationships? One particular shift is for sure, that traditional-rooted Western influence is declining. As David put it, the US-China tension can be recognised as 'an attempt of a great but fading power to contain an emerging power'. What is your view?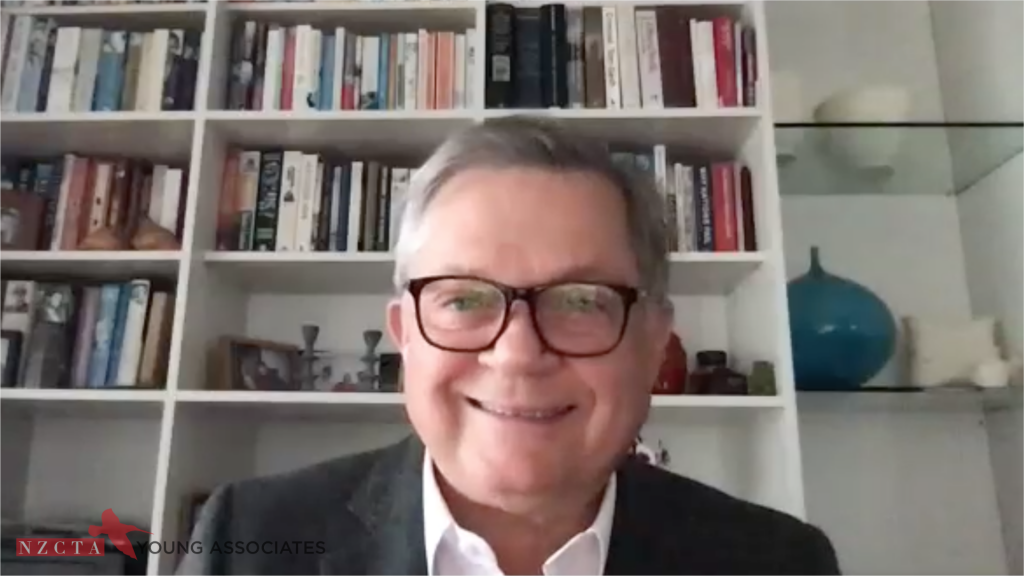 David Mahon Zoomed in from his home in Auckland
China's growth, especially domestically, is indeed unparalleled. On this note, David shared his insights into the developments of China's domestic market; which he said is helpful to do with 5, 10, 20 year lenses. Of particular interest (to the writers), was David's highlighting of the grass-roots base to China's economy; organic activity which will continue to grow with domestic migration and urbanisation. Regarding COVID-19, David noted that China's current process of recovery will be increasingly important for New Zealand.
In many ways, China has changed profoundly. The country has become more open: internally, financially, and socially. At the same time, its current President is the most authoritarian it has had in a while. At the individual level,  David believes that people's lives are much freer than before. David reminded us of the use of using long-term lenses and to view China through its grassroots-core; the eyes of individual people. In overall sentiment, he feels that it's not the demonised entity that the Western media (which we often see ourselves in fraternity with) view China as. 
The session with David left us (the writers of this Review) feeling inspired and with a deeper understanding of the US-China-NZ dynamic. A tip we will be taking forward with us, and recommend that you do too, is to read more books and current affairs - from a range of sources such as David's recommendation, Caixing Magazine - on China, as to continue to develop our perspective.  
Of course, this Review is just the tip of the iceberg when it came to the expansive insights David shared with us over the hour-long Zoom call. If you'd like to view the whole session, PLUS an extra Q+A call kindly held privately the following week (y'all had a lot of questions!), as well as the recordings and slides for sessions 1-5 of our Virtual Series, signup now for our YA membership to join the hub! 
We hope to extend a huge thank you to David for sharing his time and insights with us! Also, shoutout to our own Committee Members, Isabella and Edward, for the smooth hosting and facilitation. See you all at our next (potentially physical; stay tuned) event! 
Event review written by Antoine Ellis and edited by Han Li.