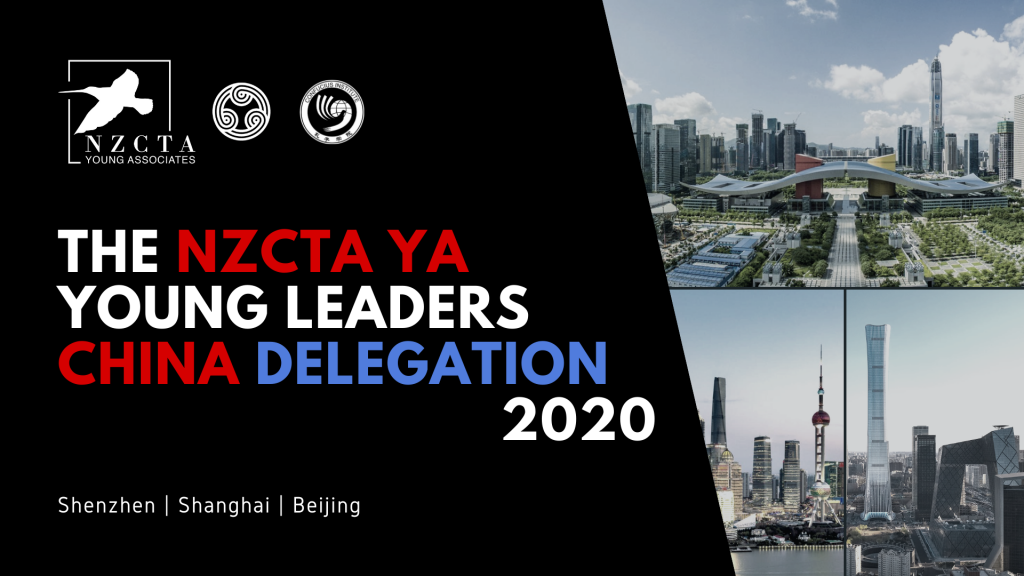 What is the NZCTA YA Young Leaders China Delegation 2020?
The YA is going to China! We are proud and excited to offer you the opportunity to head to China as part of our inaugural NZCTA YA Young Leaders China Delegation 2020! That's right, in 2020, we will be sending a group of young Kiwi leaders to China to give them first-hand exposure to our biggest trading partner. Could you be one of them?
We will be visiting businesses, meeting with governmental departments and universities, and experiencing cultural activities in three amazing cities: Shenzhen 深圳 (the tech capital), Shanghai 上海 (the financial hub) and Beijing 北京 (the cultural capital).
Application for places on our delegation HAVE CLOSED!
What will you be doing?
Our trip will take us to Shenzhen, Shanghai and Beijing, three cities at the centre of China's economy. In each city, we will visit various businesses (with a particular focus on those that are New Zealand related or operated), governmental departments and universities. Through these experiences, delegates will be exposed to how businesses have entered, operated and promoted themselves in the Chinese market. Aside from the business aspect, delegates will also be immersed in Chinese culture as we visit historic cultural sites from city to city. Notable organisations we will visit include, but are not limited to:
Who are we looking for?
Young New Zealanders with prior involvement or interest in China.

Prior leadership or business experience will be preferred.

Applicants must be New Zealand citizens or permanent resident holders.

Willing to participate in NZCTA YA related activities before and after returning to New Zealand.

Between 18 and 30 years of age as at 1 January 2020.
Place for Photographer/Videographer
Are you a photographer or videographer? We have one place on our delegation reserved for someone who can document it! You will experience all parts of the trip, but will also focus on recording our day to day activities.
If you would like to apply for this place, in addition to a normal application, please submit a portfolio of your work.
.]\
Please email to delegation@nzctayoungassociates.com:
Your CV;

A cover letter explaining why you want to go and your experience in the China-NZ space; and

A link to a 3 minute video answering:

when you have demonstrated leadership; and

the biggest misconception people have had of you.
Videos do not have to be formal, we just want to get a feel of who you are!
APPLICATIONS HAVE CLOSED!
What will we cover?
Thanks to the generous support of NA Cape and Confucius Institute, the following will be covered:
Accommodation 

Travel costs within China

A small food budget for Shanghai and Beijing
What is not covered?
Any travel costs to and from China (e.g from New Zealand)
Visa costs
Travel insurance
Frequently Asked Questions (FAQ)

The vision of the Confucius Institute in Auckland is to continue and to enhance the longstanding tradition of friendship, respect and co-operation between China and New Zealand. It dedicates itself to enhance knowledge of Chinese language and culture and extend New Zealanders' engagement with China through various programmes and collaborations with partners in New Zealand and elsewhere.

The North Asia Centre of Asia-Pacific Excellence (North Asia CAPE) is committed to helping New Zealand build sustainable, future-focused economic and cultural relationships with Greater China, Japan, and Korea. The North Asia CAPE has two priority areas: working with NZ businesses, particularly SMEs, seeking to internationalise in China, Japan, and Korea; and encouraging New Zealanders, especially school and university students, to learn Chinese, Japanese or Korean, and to enhance their understanding of the diverse cultures of North Asia.