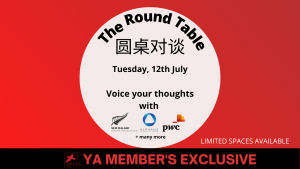 The Roundtable was an evening filled with conversations, champagne and canapés. With the beautiful view of the sunset over the harbour, it was a fantastic evening embroiled in deep discussions. 
The attendees were able to participate in the roundtable discussion, covering job hunting in the New Zealand market – creating open dialogue from both the job-seeker point of view, and the employer point of view.
The roundtable was followed by networking, and the ability of attendees to converse with a variety of guests from MFAT, HSBC, Faceton Group, United Media Solutions, PWC, Alpha NZ and more! The guests were able to have conversations with those new to the job market, looking for their first job, or those looking to change careers and gain valuable insight from young professionals and students.
The topics discussed encompassed:
How useful a second language is

How important LinkedIn is to finding a job

What those specific employees are looking for when hiring

Differences between applying for a job in New Zealand and China

Specific actions job-seekers can take to improve their job prospects

Skill gaps identified in the New Zealand market
Attendees noted the highlight of the event was being able to talk to a variety of attendees from a range of industries, and ask those burning questions you wouldn't have been able to ask otherwise. Some guests extended an offer to the attendees if they were interested in connecting further, for coffee chats down the line.
"The Roundtable – 圆桌对谈 was the first ever NZCTA YA event I've gone to and it was a great night! The atmosphere was warm and welcoming, and the korero shared was really insightful. I left feeling energized and with some amazing new connections!" – Kelly Ye
"The Roundtable event was a great opportunity to meet and connect with a diverse mix of people from different ages and backgrounds! It was great hearing various opinions on pertinent topics such as work-life balance and cross-cultural collaboration – both from the junior and senior perspectives." – Kadin Su 
We're looking to hold another Roundtable in early 2023, so keep your eyes peeled for information to come!