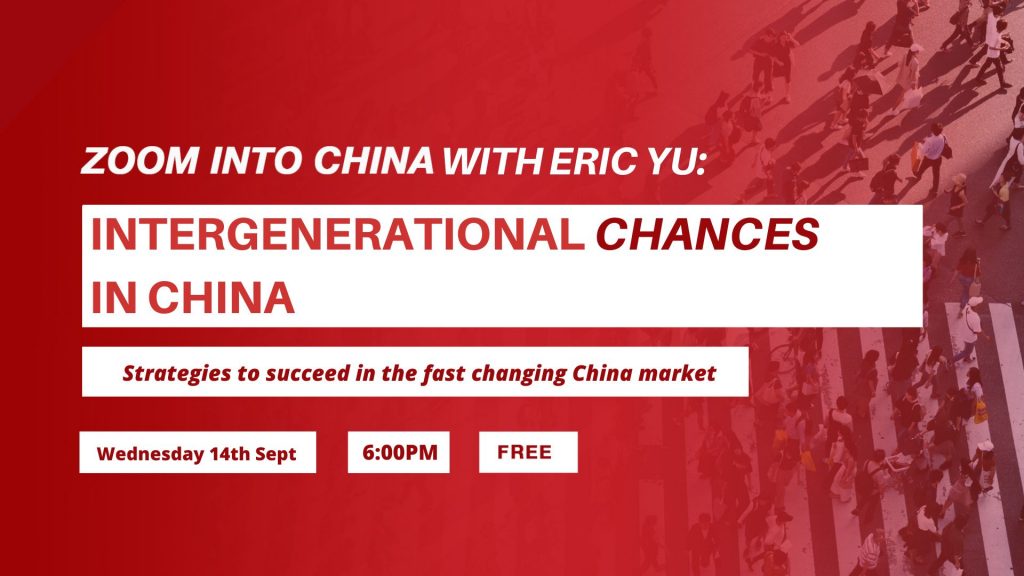 This is our 3rd YA Zoom into China series for the year! Be sure to join the YA as a member to attend these ongoing series throughout the year for FREE. Kickstarting Spring and following from the previous work of Jerry Clode in understanding the intergenerational changes in China – hear now on the practical strategies to make the most of it with the Intergenrational Chances in China.
Are you interested in hearing about the unique insights of China's different generations?
Do you want to know how New Zealand's and China's young generations compare in identities and cultures?
Or gain a further understanding of how marketers target the rising buying powers in China?
Join us on the 14th September at 6:00 pm for our Zoom into China: Intergenerational Chances in China with Eric Yu
We have an incredible speaker; Eric Yu, who will focus on the marketing strategies to effectively target the different generations of Chinese Consumers.
Eric will give you a personal take on growing up in Australia and moving to work in China in adopting to a new environment and sharing daily insights as a Generation Z in China.
With the split between generations becoming more and more evident, especially through the use of social media, come find out how Generation Z, Xiao Zhen Qing Nian 小镇青年, and silver generation have been differently impacted through technology, brand consumption and more.