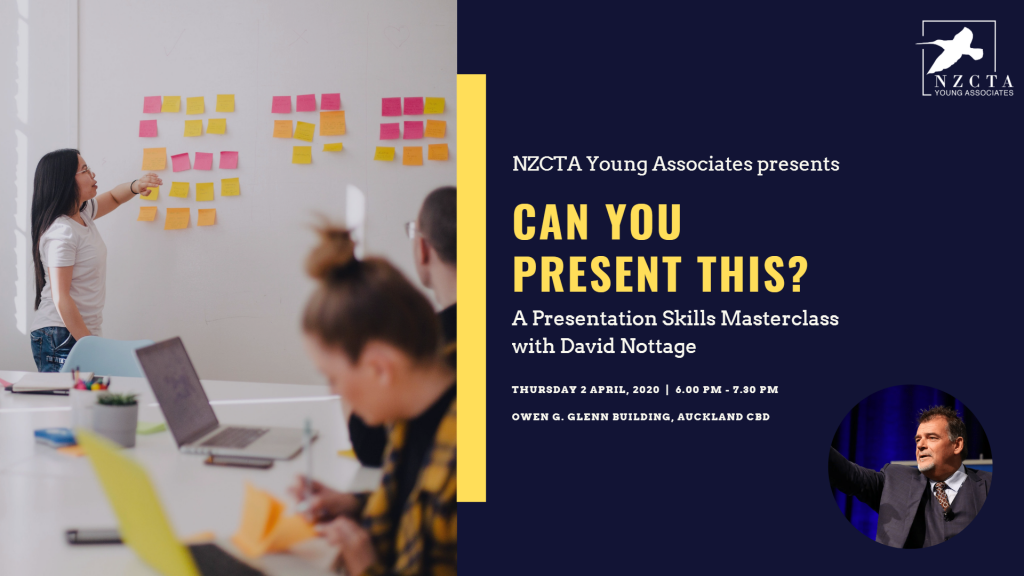 POSTPONED UNTIL FURTHER NOTICE: Can you Present This?
A Presentation Skills Masterclass with David Nottage
With the recruitment season coming just around the corner, are you prepared to present yourself in the best light possible? Are you confident in your networking skills? Are you able to effectively promote your cause at an event when required? Do you have questions about how to best approach convincing stakeholders? Or are you the nervous type that has always shied away from speaking in public? 
If any of these resonate with you, you're in for a treat! The perfect event for quick-fire tips and tricks from former World Champion of public speaking.
The NZCTA Young Associates are proud to present a presentation masterclass with the world-renowned David Nottage! Come and listen to David share and use his experience, knowledge, and skills to help you become more confident in your business presentation and communication skills. David will talk about a range of things, including tips on how to stay calm in stressful environments, the power of stance, how to converse in unfamiliar topics, and how to network and talk to anyone and everyone. 
Get in touch with us if you have anything else you would like for David to discuss! You have the potential to shape the event! 
This is a limited entry event. Our past events have been sell outs and you won't want to miss out on this one so, get in quick before it's too late! 
Date: POSTPONED UNTIL FURTHER NOTICE
Time: 5.45pm - 7.30pm
Location:
Owen G. Glenn Building
12 Grafton Road,
Auckland CBD
Pricing:
Free for members
$9 for students
$18 for student bundle (3 tickets for the price of 2)
$15 for non-members
$30 for non-member bundle (3 tickets for the price of 2)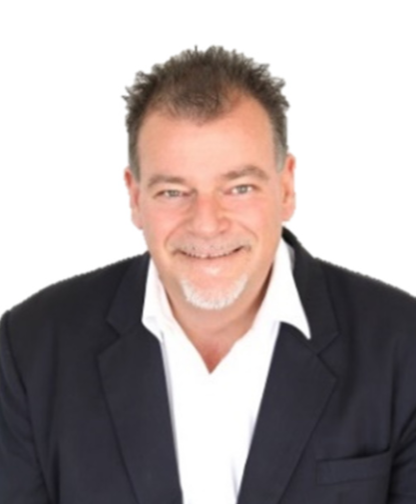 David Nottage is a Kiwi with an attitude - an attitude for success. He has come a long way in the past 38 years, from someone who was too scared to speak in front of a group of four people to becoming a dynamic presenter who captivated over 2,000 Toastmasters to become the World Champion of public speaking.
David is the Director of TORQUE, a New Zealand based company that provides training in effective and powerful business presentations and other communication-based modules. As a keynote speaker, David has inspired and motivated thousands of people to fulfill their ambitions. He has spoken internationally at conferences and has motivated people the length and breadth of New Zealand. His message is simple; "Dare to Dream" and he empowers his audiences to cast off their fears and doubts and to take on change with enthusiasm.
David has a long list of satisfied clients who are more than happy to give written or verbal testimony to his style and effectiveness. Some of his clients include; Beca, Deloitte, Downer Construction, Royal New Zealand Navy, Auckland Council, Auckland Transport, Dairy NZ, Fonterra, Air New Zealand and many other high performing companies in New Zealand.
[ESPRESSO_TICKET_SELECTOR event_id=3939]