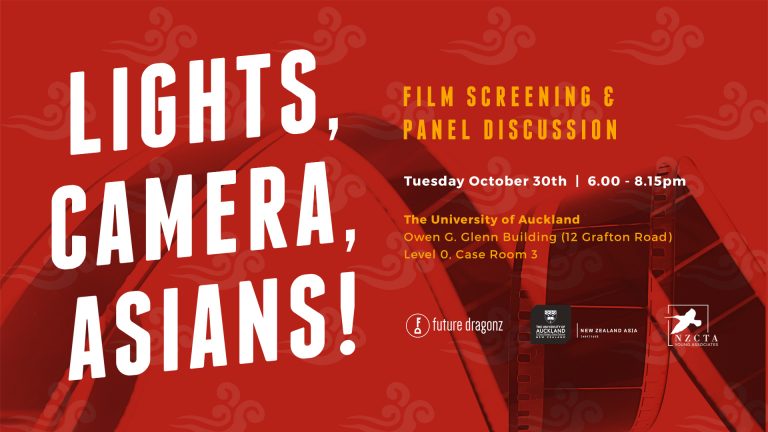 Lights, Camera, Asians!
Film Screening and Panel Discussion
Have you watched 'Crazy Rich Asians' five times already but you still want more? Keen to hear about how the everyday person can help ensure realistic representation of Asians in New Zealand media?
NZCTA YA and Future Dragonz invite you to our film screening and panel discussion event "Lights, Camera, Asians!"
EARLYBIRD TICKETS AVAILABLE UNTIL OCTOBER 23RD
Come along to engage in conversation with our awesome speakers and enjoy the short films made by and showing off talented Asian-New Zealanders!
The short films we will be screening are 'The Han Chronicles' and 'Asian Men Talk About Sex'
Our speakers who have worked on these projects are:
Calvin Sang
Chye-Ling Huang
Mayen Mehta
Joining them will be our moderator Nathan Joe!
Food and drinks will be provided on the night. All our events this year have sold out so buy your ticket today!
Date: Tuesday 30 October 2018
Time: 6:00pm - 8:15pm
Location:
Case Room 3, Level 0
Owen G. Glenn Building
12 Grafton Road
Auckland
Pricing:
$5 for members
$5 for students
$10 for non-members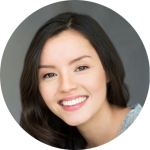 Chye-Ling Huang is a Chinese-Pakeha director, writer and actress. She co-founded Proudly Asian Theatre Company (PAT) in 2013, a theatre company dedicated to showcasing and empowering Asian storytellers in NZ. Under PAT, she runs a series of monthly playreadings called Fresh off the Page which showcases Asian scripts, directors and actors and provides mentorship with the NZ Film Commission.
Chye-Ling's recent directing works include the documentary short Asian Men Talk About Sex and the play Orientation. She was recently granted full funding for Life is Easy, a webseries she co-wrote to be produced by TVNZ.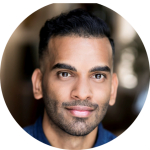 Mayen Mehta is an actor, writer and comedian. His screen acting credits include Spartacus: Blood and Sand, Shortland Street, and Stand Up in which he was nominated for Best Actor at the 48 Hours Film Festival 2017. Mayen has written for the Short & Sweet Theatre Festival 2016 and is currently writing a screenplay with mentorship from the NZFC. He recently starred in the Proudly Asian Theatre play, Orentation.
Mayen is a Raw Comedy Quest Grand Finalist 2017 and won the Fresh As Flick Comedy competition in 2016. Mayen also performs at The Classic, the home of live NZ comedy.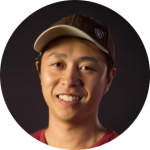 Calvin Sang is director at his video production company, Eyes and Ears. Calvin has been making films across a wide range of platforms for over a decade: producing corporate commercials for Air NZ, Daikin and AUT to working on personal projects such as short films, TVNZ mini-series and documentaries.
Strong original stories and slick production values are at his core, and he has been recognised with multiple awards for his work: including being a 5-time city finalist and grand finalist for 48Hours. Calvin also runs a popular YouTube channel (CalvinSang) that has produced some viral short films totalling over 9 million views.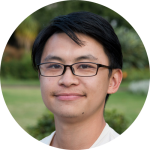 Nathan Joe is a Chinese-Kiwi playwright and theatre critic. Notable credits include successful Basement Seasons of his plays Hippolytus Veiled and Like Sex (both winners of Playmarket's b425 award). Most recently he has been involved as a performer in Proudly Asian Theatre's monthly Fresh off the Page for Pretty Butch and their spoken word night.
Upcoming projects include developing scripts with emerging queer writers for Legacy Project 2019 and devising a show for Auckland Fringe. He is also a graduate of the New Zealand Broadcasting School, specialising in Digital Film and Television Production.
[ESPRESSO_TICKET_SELECTOR event_id=2045]

Thanks to New Zealand Asia Institute for their generous support