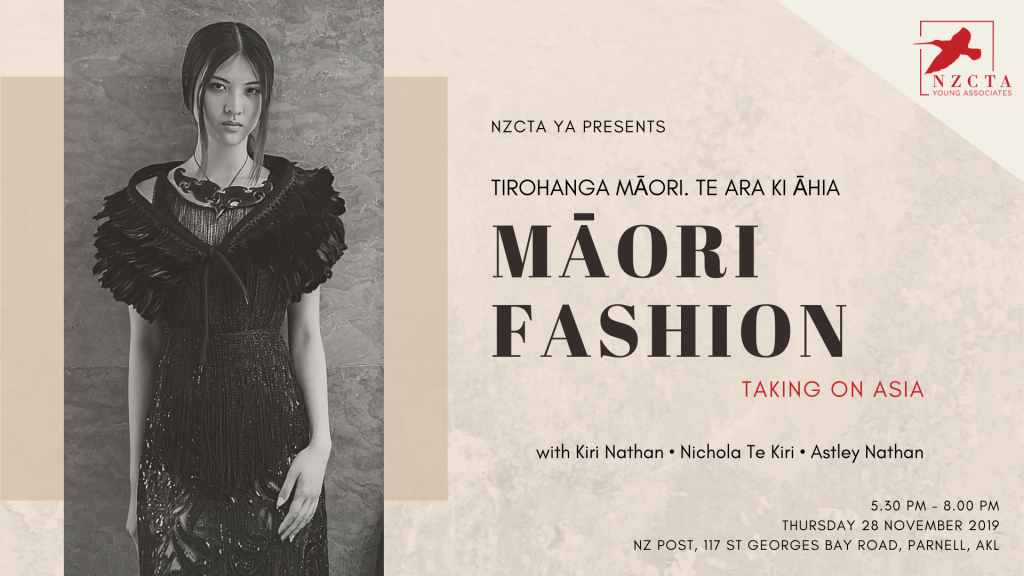 Māori Fashion: Taking on Asia
Tirohanga Māori. Te ara ki Āhia
What do Prime Minister Jacinda Ardern, Beyoncé, the Obamas and Meghan Markle have in common? They have all worn pieces by Kiri Nathan, a celebrated Māori fashion designer described by Viva as a "national treasure". Would you like a chance to meet Kiri in person? Then join us at our event on Māori fashion in Asia!
Come and hear Kiri share her experience on her pioneering efforts in taking Māori-inspired fashion into Asia. Asia is no longer just a place for sourcing clothing, it's becoming a multi-billion dollar market with a growing middle-class who have discerning tastes in fashion. Notably, China is predicted to overtake the US to become the largest fashion market in the world this year. So, learning from Kiri's experiences on how to tap into these new frontiers will be important for continued growth of the Kiwi fashion industry. 
You'll get to hear Kiri's story about leading a Māori Fashion Hikoi to China consisting of 15 Māori designers and creatives from the Kāhui Māori Fashion Collective. Her goal for the trip was to help expose small, emerging designers to investors and opportunities in China, and raise awareness of the uniqueness of Māori Fashion and culture on a world stage. Kiri will also share stories from her most recent trip to Thailand, where she is extending her presence  into South East Asia. 
We're also very excited to have Contemporary Māori Designer, Nichola Te Kiri, and NZME Radio Personality, Astley Nathan of Daz & Ast on Flava, who were part of the hikoi to China, talk about their Māori inspired fashion designs and careers in the NZ industry. They will also share their side of the story from the hikoi and how it inspired and helped prepare them to expand into Asia. This is sure to be an insightful and valuable event not to be missed!
REGISTRATION AND SPEAKERS INFO BELOW
EARLY BIRD SPECIAL: $10 non-member tickets are available until Monday 18th November. 
On the day of the event, registration will open at 5.30 pm with food and drinks. So, come early to network and mingle before we officially kick off the event at 6.00 pm!
Our past events have all sold out. So, get in quick!
Date:
Thursday 28 November 2019
Time:
5.30 pm - 8.00 pm
Location:
NZ Post 
Level 1, 117 St Georges Bay Road
Parnell, Auckland
Pricing:
FREE for YA members*
$5 for students
$15 for non-members
*YA member's code required.
[ESPRESSO_TICKET_SELECTOR event_id=3466]
Kiri Nathan (Ngāpuhi, Waikato Tainui) is the co-founder and head designer of KIRI NATHAN Ltd, a label inspired by Aotearoa New Zealand and Māoridom. The label produces exquisite, high-end fashion, Pounamu jewellery, handwoven accessories, contemporary Korowai and Kākahu (Māori cloaks). Kiri started the label in 2010 after completing a Visual Arts degree, majoring in fashion. She also went back to the marae to learn traditional and contemporary Māori weaving. These elements fused together and eventuated in the birth and continued evolution of the Kiri Nathan label. Since its inception, Kiri has showcased her work at London, New Zealand, Guangzhou and Hong Kong Fashion Weeks. Her pieces have been worn by the likes of Prime Minister Jacinda Ardern, the Obamas, Beyoncé, Mariah Carey, Demi Lovato and Megan Markle. Alongside this, Kiri sits on the board of the 'I have a dream programme' supporting and mentoring young Kiwi's, and on the Advisory Board for SUPERdiverse Women, identifying and mentoring leadership in diverse Women throughout Australasia. Lastly, she is the founder and director of the first Māori Fashion Hikoi to China, supporting the global growth of Māori fashion designers.
Nichola Te Kiri (Ngāi Tūhoe) is the founder and designer of Nichola - Contemporary Māori Designs from Aotearoa, launched in 2016. Her original, bold and contemporary fashion, jewellery, and homeware designs are inspired by Te Ao Māori with splashes of Aotearoa flavours. Nichola has studied whakairo (carving), contemporary Māori arts and raranga (weaving), and has a Bachelor of Spatial Design and Diploma in Event Management from the Auckland University of Technology. In last year's New Zealand Fashion Week (NZFW) Miromoda show, Nichola's avant-garde collection, M+H (Mahuika + Hinepukohurangi) inspired by Matariki (Pleiades star cluster) and the celebration of wahine, debuted and placed first equal in the Avant-Garde section. This was Nichola's second year displaying at NZFW's Miromoda show amongst other talented Māori designers. She aims to scaleup her business and cement the Nichola brand into the world of avant-garde fashion. Since launching her brand, Nichola has been a part of business mentoring programmes run by Māori Women's Development Inc., Waikato Innovation Park and Te Puni Kōkiri. Nichola is also a member of the Kāhui Māori Fashion Collective that went on the hikoi to China.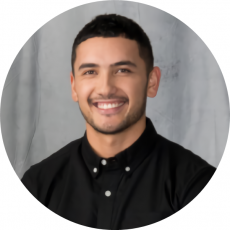 Astley Nathan
NZME Radio Personality and Fashion Designer
Astley Nathan (Ngāpuhi, Tainui, Ngāti Whātua) is a Radio Personality at NZME (New Zealand Media Entertainment). You may know him best as "Ast" from Daz & Ast on Flava's breakfast show, Wake up Call. Aside from radio presenting, Astley has been exploring fashion design and has decided this year to start his own fashion label. Earlier this year he helped, Kiri Nathan, create the handwoven collar for a dress worn by Prime Minister Jacinda Ardern. Astley also participated in the Kāhui Māori Fashion Collective's hikoi to China. He used this opportunity as a research & development project to learn more about the industry for his label. He says being surrounded by amazing Māori fashion creatives on the hikoi was something he'll never forget.