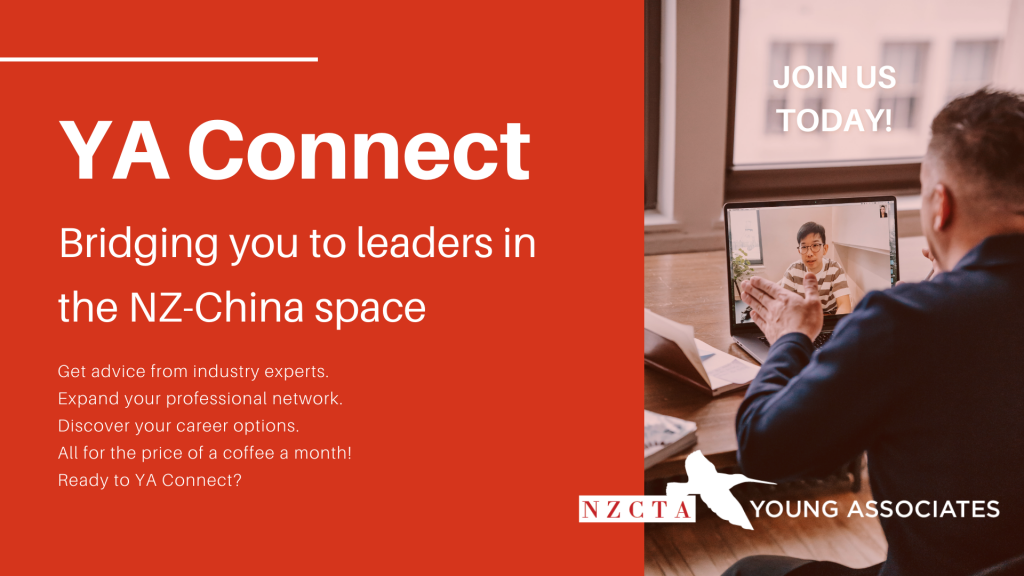 What is YA Connect?
YA Connect is our member-exclusive career development programme which sees aspiring young people paired with established industry professionals for one-off meetings.
At NZCTA Young Associates, we believe building careers doesn't stop at attending events and watching webinars. When it comes to nurturing networks, solving professional challenges, and cementing self-confidence, nothing beats talking to the professionals. Through this initiative, we'll seek out and connect you with Advisors who have expertise in areas in the NZ-China space that you're keen to move into career-wise. Successful applicants will have the freedom to organise their one-off meeting with their Advisor whenever they see fit.
How is YA Connect run?
There will be windows throughout the year during which NZCTA YA Members can express their interest in the YA Connect programme. Each application window will be open for four weeks only.
This programme is open to YA members who are based in New Zealand, and our application review process will prioritise university students and young professionals who are serious and passionate about developing themselves and their careers in the NZ-China world. Signing up will require typical information like a CV, personal details, and professional background information. Beyond this, applicants are also asked to write about themselves, what industry insight they're looking for specifically, and what knowledge and experience the Advisor we're connecting them with would ideally have. As with other programmes, applicants will be asked to agree to our terms and conditions such as those pertaining to professional correspondence. YA Connect's eligible age range will be the same as our larger membership (18-35 years old).
We will endeavour to connect Applicants with Advisors whenever possible, but we cannot guarantee every application will be successful as it depends on whether Applicants meet our application assessment criteria and the availability of suitable Advisors.
-
2022 application window is Open on Friday, 14th October and will close at 11.59 pm on Monday 14th November 2022.
-
Frequently Asked Questions (FAQs)