Year of the Pig 🐽
Twenty Nine Teen. An interesting year for NZ and China. It had a rocky start, with media rumours of a "rift" developing between the nations, and ended on a strong note, with the long-awaited upgrade to the FTA being agreed in principle. It also marks the end of a decade in which New Zealand's trade with China has skyrocketed, with China now our largest trading partner.
So what does 2020 hold? Well, an election for one, and all the uncertainty that brings. It also sees the actual signing of the FTA upgrade and more clarity over what exactly the benefits for us will be. And, it also sees opportunity...for you (yes, you).
We've had a busy year in the YA, running a record number of events, celebrating our 5th anniversary, and...planning a trip to China! Yep, over the Easter break next year, we'll be sending a group to China to visit New Zealand businesses and get a first-hand look at how things are done in the country. We would love for you to join us - check the details below.
Anyways, that's pretty much it for us this year. Happy holidays, thanks for reading over the past year (😍) and see ya'll in 2020 for the next decade!
#1. SPECIAL OPPORTUNITY: NZCTA YA China Delegation 2020!!!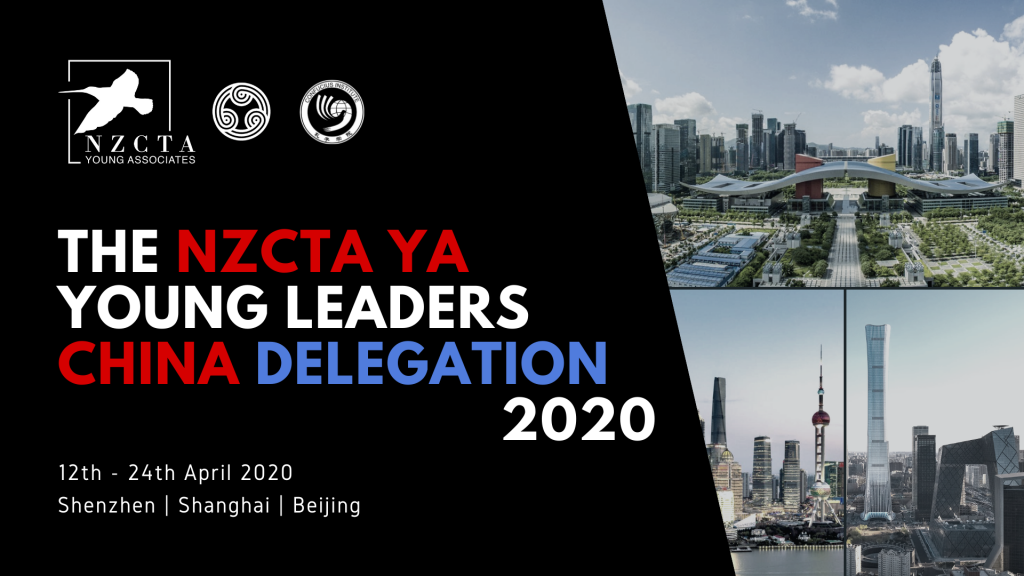 The YA is heading to China!!! We're excited!!! And we want you (yes, you) to join us!
From the 12th to 24th April 2020 (over the Easter break) we will be sending a group of young Kiwi leaders to Shenzhen, Shanghai and Beijing to explore our biggest trading partner. We plan to visit various businesses (with a particular focus on those that are New Zealand related or operated), governmental departments and universities.
Our goal is to return with a better understanding of how businesses have entered, operated and promoted themselves within the Chinese market. Let's go!
Applications to join our delegation will close at 11.59 pm on Monday 30th December 2019. Head over to our website now to learn more about the delegation and start preparing your application!
Many thanks to North Asia CAPE and Confucius Institute in Auckland for supporting our delegation. We are so excited to make this ambitious goal (held for many years at the YA) a reality!
Places on our delegation are very limited, apply here!
#2. Recent Event: Māori Fashion: Taking on Asia
Māori Fashion: Taking on Asia (Tirohanga Māori. Te ara ki Āhia) was one of our favorite events of the year! The topic of fashion was different and refreshing, and we had three amazing speakers who gave us valuable insights from their journeys exploring market entry and trade in China.
We loved hearing what Kiri Nathan (centre), Astley Nathan (right) and Nichola Te Kiri (left) had to share with us from their experiences marketing their fashion labels in Asia, exploring China's fashion industry and the importance of Māori fashion on a world stage.
We hope to bring you more diverse and interesting events like this again next year. Thanks again to everyone who came along and and we look forward seeing you all again soon!
Find out why this was one of our favorite events here. Check out more photos from the event on our Facebook page here.
#3. Recent Event: Havana Nights: The NZCTA YA Xmas Party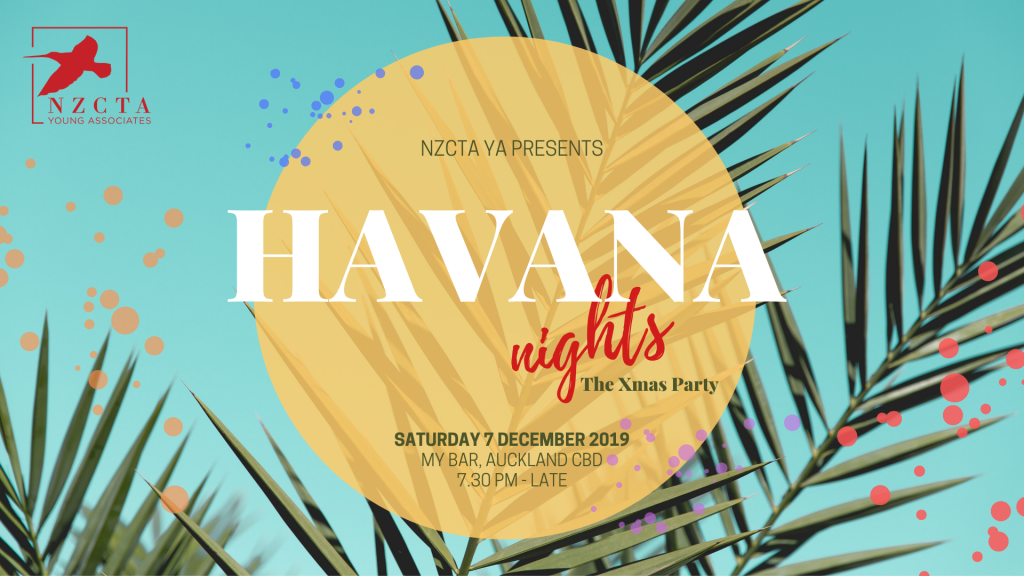 Thank you to everyone who came and celebrated with us at Havana Nights: The YA Xmas Party! (we wish we had some pictures to show you but we were too poor to afford a photographer 😭) (pls sponsor us)
We had palms leaves (heaps), fairy lights, colourful floral shirts and Cuban hats - we did Camila and Thugger proud! And what a fun night it was chatting up a storm with old and new friends oh na na!
We look forward to bringing you more opportunities to network and mingle with other like-minded individuals next year! So, stay connected with us through our social media channels (see bottom of webpage) to get the latest updates of our events to come. We have some very exciting events in store for you that you really don't want to miss out on next year!
Lastly, the YA team would like to wish you all a very Merry Christmas and Happy New Year! May you have greater success and prosperity in 2020!
Have an idea or opportunity you would like us to offer? Would you like to be part of the Young Associates? Have general questions/comments? Let us know below!
Editors: Han Li, Kathy Liu
Disclaimer: Opinions expressed in this newsletter are the sole opinion of the NZCTA Young Associates and do not represent the opinions of the wider New Zealand China Trade Association (NZCTA) or any of its executive committee.