Māori Fashion: Taking on Asia (Tirohanga Māori. Te ara ki Āhia) was one of our favorite events of the year! The topic of fashion was different and refreshing, and we had three amazing speakers, Kiri Nathan (centre), Nichola Te Kiri (left) and Astley Nathan (right), sharing valuable insights from their journeys exploring market entry and trade in China from three very different perspectives.
The event started with tons of positive energy. Our fantastic MC, Tee (also YA's HR Manager) energised us with ice breaker games consisting of awkward arm movements and finger grabbing – what a way to break the ice 😂. After a lot of laughter around the room, we had the pleasure to hear celebrated Māori Fashion Designer, Kiri Nathan, share the story behind her label and her experiences taking Māori Fashion into China.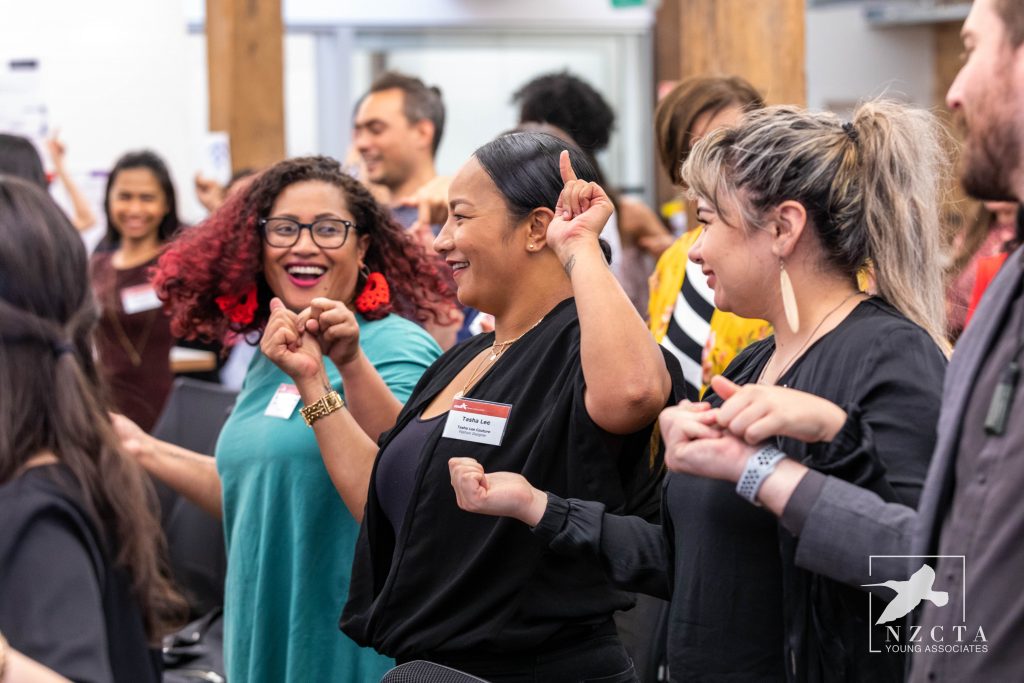 (Our attendees laughing and having fun with the ice breaker games before the event kicked off.)
Kiri (Ngāpuhi, Waikato Tainui) is the co-founder and head designer of KIRI NATHAN, a label inspired by Aotearoa New Zealand and Māoridom. The label produces exquisite, high-end fashion, Pounamu jewellery, handwoven accessories, contemporary Korowai and Kākahu (Māori cloaks). Kiri started the label in 2010 after completing a Visual Arts degree, majoring in fashion. She also went back to the marae to learn traditional and contemporary Māori weaving. These elements fused together and eventuated in the birth and continued evolution of the Kiri Nathan label. Since its inception, Kiri has showcased her work at London, New Zealand, Guangzhou and Hong Kong Fashion Weeks. Her pieces have been worn by the likes of Prime Minister Jacinda Ardern, the Obamas, Beyoncé, Mariah Carey, Demi Lovato and Megan Markle.
Kiri's talk focused on the 13-day Māori Fashion Hikoi to China that she founded and led earlier this year in April, which consisted of 15 Māori designers and creatives. She also talked about the creation of the Kāhui Māori Fashion Collective (MFC) made up of eight Māori fashion brands (who were part of the Hikoi).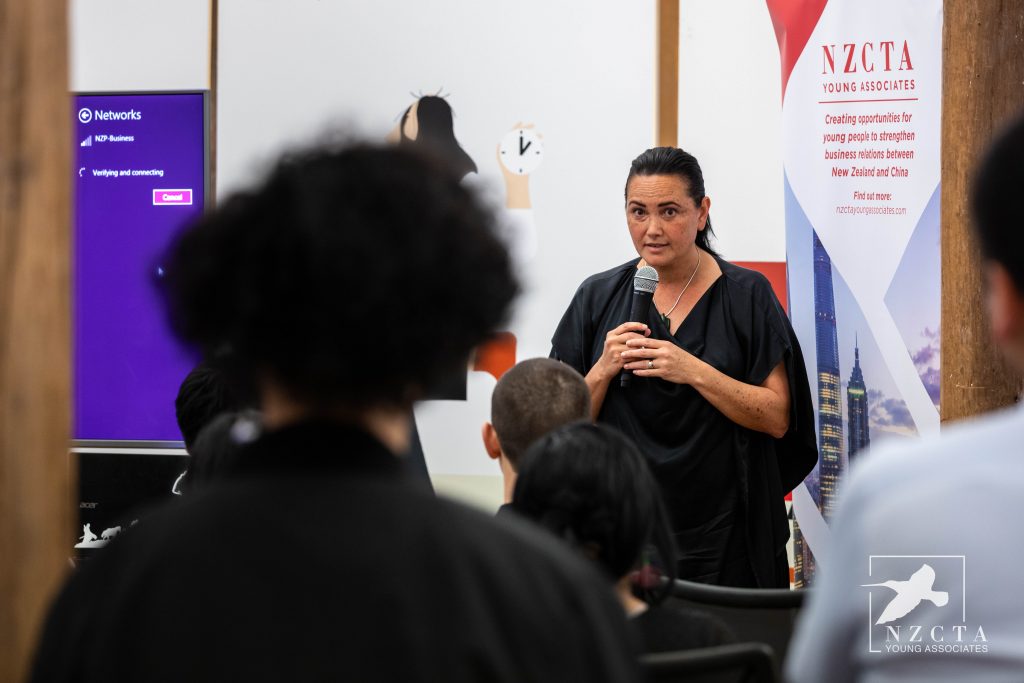 (Kiri Nathan imparting her wisdom and knowledge of the Chinese fashion industry.)
Next we got to gear from Nichola Te Kiri (Ngāi Tūhoe), the founder and designer of Nichola - Contemporary Māori Designs from Aotearoa, launched in 2016. Her original, bold and contemporary fashion, jewellery, and homeware designs are inspired by Te Ao Māori with splashes of Aotearoa flavours. Nichola has studied whakairo (carving), contemporary Māori arts and raranga (weaving), and has a Bachelor of Spatial Design and Diploma in Event Management from the Auckland University of Technology. In last year's New Zealand Fashion Week (NZFW) Miromoda show, Nichola's avant-garde collection, M+H (Mahuika + Hinepukohurangi) inspired by Matariki (Pleiades star cluster) and the celebration of wahine, debuted and placed first equal in the Avant-Garde section amongst other talented Māori designers.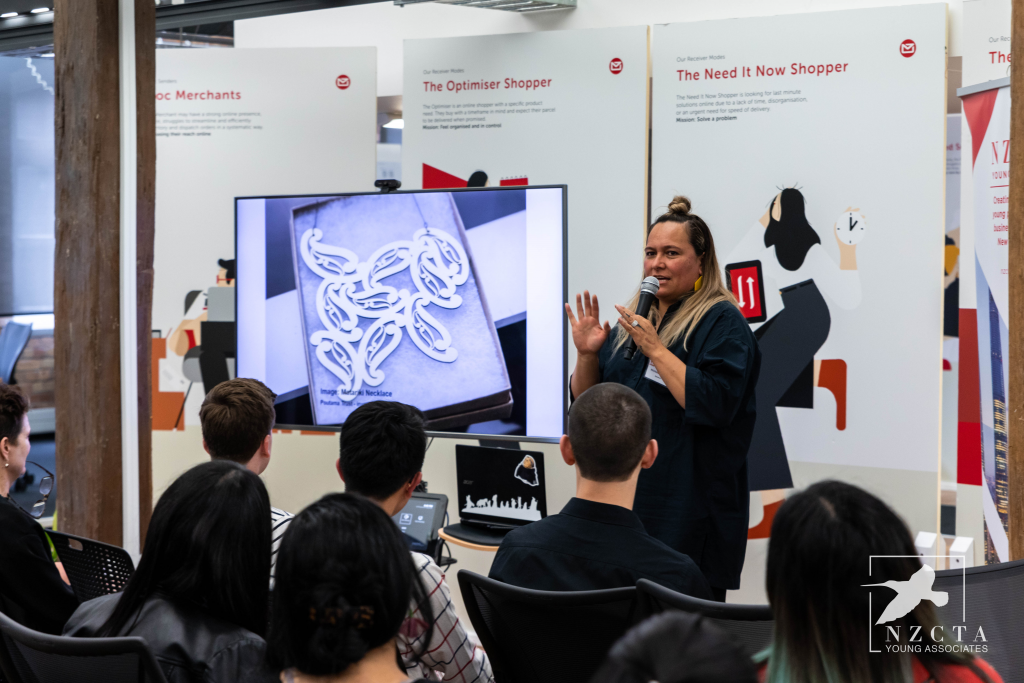 (Nichola Te Kiri telling us the story behind her contemporary Māori fashion label, Nichola.)
Last but not least, we got to hear from Astley Nathan (Ngāpuhi, Tainui, Ngāti Whātua). In the mornings, you can hear him as "Ast" from Daz & Ast on Flava's breakfast radio show, Wake up Call. In the future, you may be able to see and wear pieces from his own fashion label.
In April this year, Astley decided to start his journey as a fashion designer while attending the China Hikoi, which he used as a research and development opportunity for his label. Kiri (his mum and role model) had a strong influence on his decision to join the industry. Before he went to China, Astley didn't know anything about fashion. He joked about finding out he "[had] to sew buttons?!" and was constantly asking the question that every newbie fashion designer asked: "what's that fabric?".
At the start of his journey learning how to make clothes in NZ, he noticed that NZ's fashion industry had limited sources of fabric and people. He noted that " we are creative, we have a cool story and a unique identity. However, mass producing is tough for Kiwi's in NZ, which is needed to spread our stories and labels, and make money." After visiting China and seeing the world's largest fashion market, Guangzhou Zhongda fabric market (a highlight of his trip and a must do for budding fashion designers), he appreciated and saw the opportunity of utilising China's industry and resources to produce his label.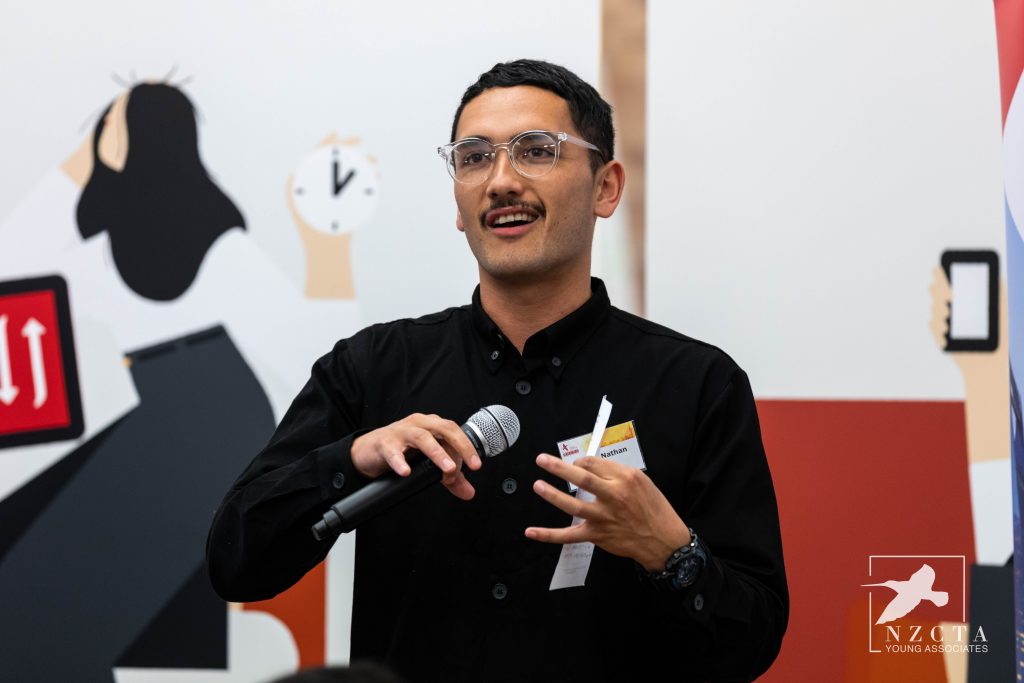 (Astley Nathan, Flava Radio Personality, sharing his experiences as a newbie Fashion Designer.)
At the very end of the event, we were super lucky to see a hot of the press video of the 13-day Hikoi to China (literally finished just before the event started). It visually recapped the content of the evening's talks beautifully – and yes, we got to see this video before our Prime Minister! How lucky were we?! Unfortunately, we can't share the video with you at this moment, however, you can read a very in-depth review of the Hikoi by one of the participants here.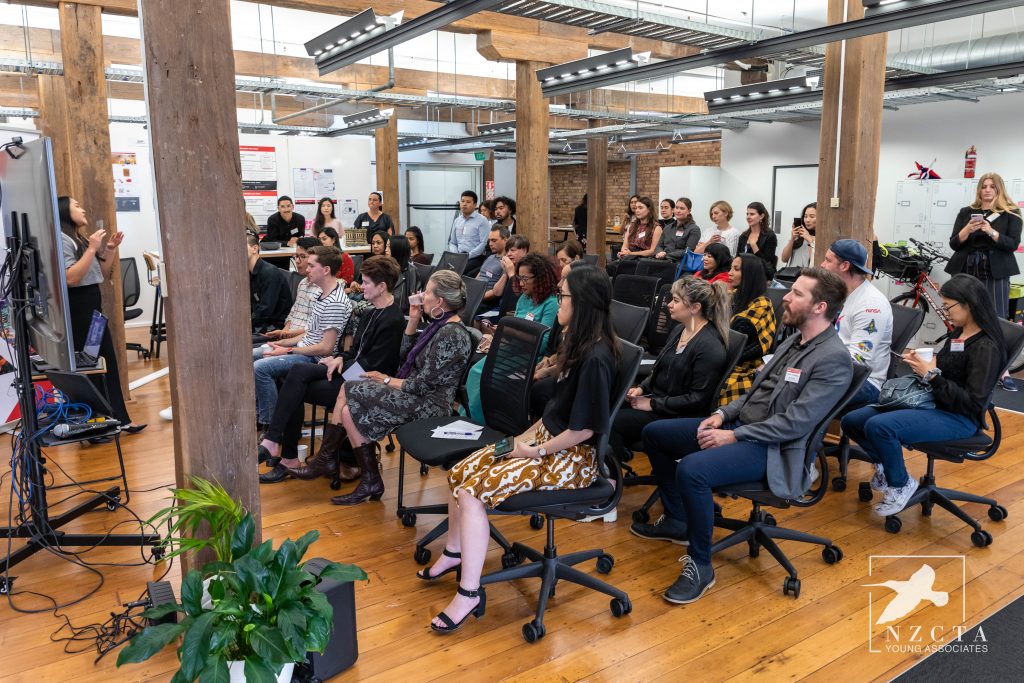 (A shot of the cool NZ Post office venue.)
Thanks to everyone who came along and we hope to bring you more diverse and interesting events like this again next year! Check out our Facebook album for more photos from the event here.
Big thank you to NZ Post for lending us your cool office space for the event, it was a very fitting venue for a talk about Fashion and NZ-China trade!
Photo Credit: Matt Illing
Event review by Kathy Liu