YA Virtual Session Special Edition - Food and Beverage Sector: Updates and the Lewis Road Creamery Story
Amidst the turbulence that has defined a lot of 2020, one local mainstay that looks like it will continue growing over the coming years, regardless of external dynamics and challenges, is our bustling Food & Beverage Industry! Not only does F&B account for 46% of all NZ exports, and US$6.14 billion to China (numbers which are all growing), the industry is also our most diverse in terms of taste (shoutout to our home staples Whittakers, Lewis Road Creamery, and all our local wines; to name a few!).
Therefore, here at the YA we thought it would be good to dedicate an event to the NZ-China F&B space; as an opportunity for young professionals to learn more and hear from experts on how future propsects are looking. In order to play safe, we decided to host the event on Zoom, as a special 7th Edition of our Zoom Into China Virtual Series. The event was story-rich and full of interesting insights; ultimately made possible by both the wonderful Andrew Watene (KPMG) and Nicola O'Rourke (Lewis Road Creamery).
The proverbial table was set by Andrew who gave us a flavour of how executives in NZ companies are finding navigating China in the Covid environment, the perfect lead in to then hear how Lewis Road Creamery launched into China late in 2019 and used some surprising brand positioning to find and hold the interest of their dream consumer, the office "3pm bubble tea instigator".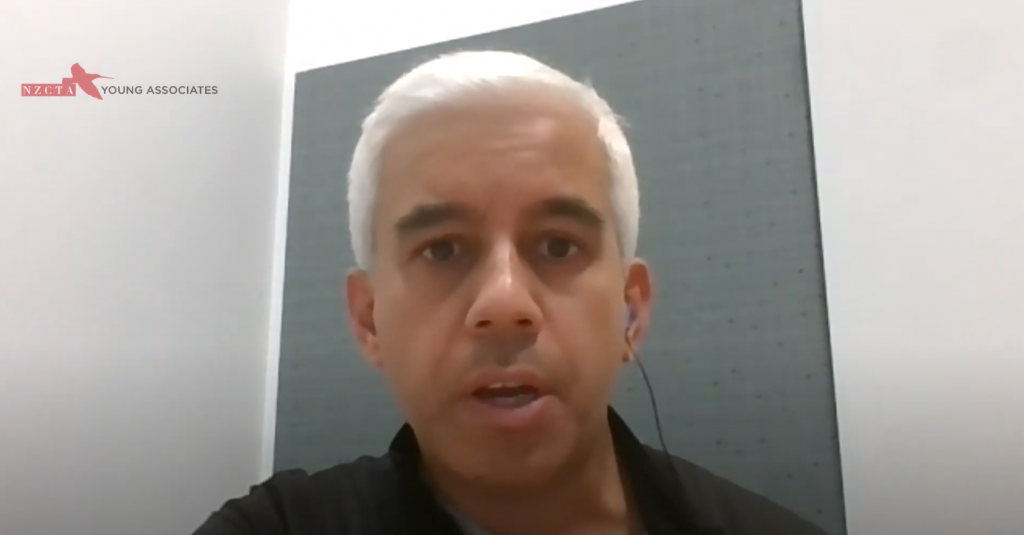 Andrew Zoomed in from KPMG's Auckland Office 
For his part, Andrew Watene has spent the last few months interviewing top level executives at major NZ exporters and for our session pulled out his top takeaways with those specifically regarding China with a focus on Covid-19 era challenges. It was very interesting to see many of the lessons Andrew took away from this analysis reflected in Lewis Road Creamery's approach. The crossover is uncanny, but we promise it wasn't planned!
As the world's markets lean towards protectionism, there's never been a time to seriously assess how we can succeed. Not only are we competing against other country's goods in China, we're competing with a lightning fast local environment of innovation in product as well as marketing.
Consideration and opportunities for New Zealand exporters taken from Andrew Watene:
Demand in China is fluctuating wildly and is proving difficult to forecast. Many 红包 (red packets) from the Chinese New Year remain unspent, and it's anticipated that this will cause a burst of new spending at some point. However, 43% of Chinese feel financially vulnerable or overwhelmed and are therefore looking for bargains. Learn: Always re-assess your assumptions on price and demand.
We can't compete on price, and therefore should consider front footing transparent and fair supply chains. This could be a major opportunity to provide certainty during uncertain times, as well as reduce the distance between the source and consumer. See Lewis Road Creamery's approach below!
In China in general, and especially now, NZ companies need to be absolutely laser focused in their target demographics. Who exactly are you targeting? The challenge here is around knowing where this demographic "hang out". Deep research is needed. Again, Lewis Road Creamery's approach is a delightful example of what this looks like.
There needs to be a move from a static risk register to a dynamic one. There's never been a time where flexibility is more needed.
Lewis Road Creamery's unexpected China consumer & guerilla marketing with male models
After having our appetites whet by Andrew's insights, Lewis Road Creamery didn't disappoint with a path into the Chinese market which took us by surprise. Andrew spoke of the need to be laser focused with who you target, and Nicola's team went on a journey of their own on finding who this consumer was. First, they assumed, as with much other milk sold in China, that their key consumers would be homemakers buying it for their children. However, when it became clear that their prices wouldn't allow them to serve this market, they had to think laterally.
Retelling their success though requires looking back to early 2019 when they started seriously considering entering China. They ended up launching in November 2019 but in the 9 months prior they weren't resting on their laurels. As if straight from the advice given by Andrew Watene above, they spent a lot of time and resources visiting the market and solidifying who their consumer was. It was from these visits, some chance encounters and "jumping in and seeing where you go" that they had a eureka moment. It wasn't the parents who they'd sell to - it was the working, fashion aspiring, young, often female "3pm bubble tea instigator", dubbed as such due to their habit of rallying their colleagues for a 3pm moment of indulgence via a sweet beverage. Nicola decided it would be their chocolate milk, that would be the go-to choice for such an occasion.
Since then they've changed the format - in interviews with the "3pm bubble tea instigators" they found what we have in NZ was far too large. They also found that many aspects of what they were emphasising in branding was off too. In the end they ended up with "The Silkiest Milk" with images of bronze silk behind their golden capped, smaller bottles of 25RMB chocolate milk (closest competitors sell for only 5RMB). With a distinct underlying message of fashion, luxury and indulgence they handed out their milk at fashion runway events, and even hired male models to hand out samples in offices of fashion headquarters such as Gucci and Louis Vuitton to hammer home the message. By also utilising fashion influencers ("KOLs" aka Key Opinion Leaders) they managed to sell a whopping 20,000 bottles in just 4 days on Tmall.
All this in what is otherwise a trying international business environment has allowed them to thrive, not just survive. In the words of Andrew, Lewis Road Creamery has clearly been able to move from a static risk register, to a dynamic one.
Some other considerations from Nicola O'Rourkes presentation:
Marketing in China is manic. You need to be coming out with fresh content with depth, multiple times a day if you're going to keep up.
Product innovation is crucial. Consumers get bored very easily. They have new products developed already including collagen milk and rose milk (remember who their target consumer is)
They couldn't be cheap, so instead of cutting costs when retailers complained and initially rejected them, they focused on engineering premium value into their products by relentlessly understanding their consumer.
Transparency and legitimacy. They used QR codes as well as videos of the product being packaged to prove that their products were authentic. In such a busy market place this is key, and although not necessarily sexy, these components achieved the desired outcome.
They were on a limited budget, so collaboration with other brands in-market allowed them to optimise every dollar spent.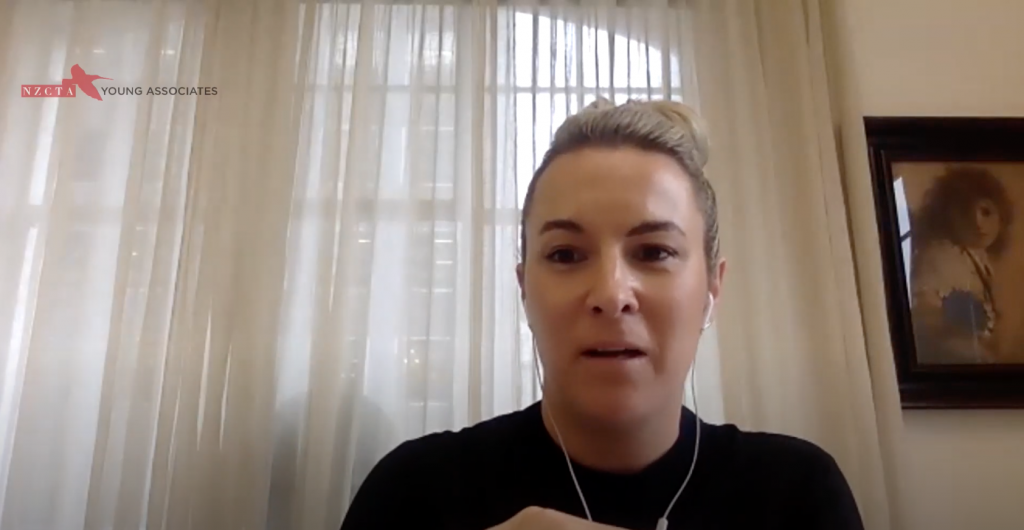 Nicola Zoomed in from her home workspace in Auckland
It's clear that entering China is challenging, but hearing the insights from Andrew's presentation brought to life with such a vivid and recent example of dynamic thinking and success from Nicola, clearly shows it's not a pipe dream. Breaking out of the traditional Kiwi business mentality and jumping in with a very healthy dose of research and understanding upfront seems to be the right medicine. I've no doubt a bottle of Lewis Road Creamery's chocolate milk would help it go down smooth, too.
Of course, this Review is just the tip of the iceberg when it came to the expansive insights we delved into at our Food & Beverage Virtual Session. If you'd like to watch through a recording of the whole session, as well as the recordings and slides for sessions 1-6 so far of our Virtual Series, signup now for our YA membership to join the hub! We look forward to seeing you on the other side. 
Thank you very much, Andrew and Nicola, for your sharing your time, expertise and insights with the YA; it has been an experience much appreciated! Thanks also to our amazing Committee for the smooth facilitation, with a special shoutout to our Events Manager Isabella; and to all who tuned in!
Event review written by Edward Smith and edited by Doris Lien and Antoine Ellis.